School of Applied Sciences
About
Established in the 2008-2009 academic year, the main objective of The School of Applied Sciences (ASCI) is to educate students to become professionals who can meet the industry's expectations, have theoretical and practical skills, use computers and information technologies effectively, are able to keep up with the rapidly changing technological innovations and new trends with ethical awareness and teamwork skills. Although, the School was launched with one undergraduate program, the number of offered programs was increased in a short period of time, with the School now offering five programs: Computer Technologies and Programming, Computer Aided Accounting, Information Technologies and Management Information Systems.
MISSION AND VISION
As information system, and as part of theoretical and practical knowledge, earning a growing interest in the business world as well as other fields, today's business professionals need to apply and make effective use of computer skills. In line with this professional reality, our School aims to train qualified professionals who can execute enterprise management by making effective use of management and information systems.
Our School's mission is to equip prospective graduates with a strong academic and professional background, and help them become creative, socially responsible professionals, with a high awareness of moral and ethical values, so that they can succeed in the competitive and ever changing business world. The education offered in our School is in line with European Union norms; hence, providing students with the most up-to-date knowledge and skills supported by relevant contemporary research and business-oriented practices, in the field of information and management systems.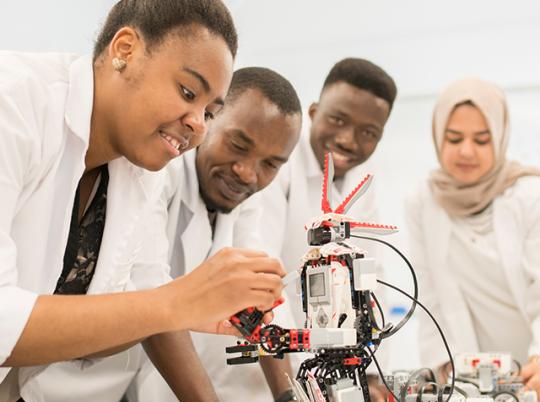 EDUCATION OPPORTUNITIES
Students are able to access the required course materials from the University's library and online course management portal. Furthermore, as part of the coursework, students benefit from the laboratories and/or field work (for practical courses) to implement the theoretical input into practice. In addition to the laboratory exercises; practical implementations, combined with the case studies from real life situations, course internships and independent studies offered within courses also help students to apply theory into practice. Moreover, seminars given by experts from the sector/market; invited guest speakers for relevant courses, summer internship where students work in a company for 30 days and collaborations with other organizations offer authentic learning and potential employment opportunities for students. The Cyprus International University Finance Laboratory is also equipped with the highest level of technology, supported by the TradeMaster platform. The financial laboratories, usually found in America and Canada, are available within the campus and are aimed at helping students get closer to the business world and preparing them for the professional setting of the finance industry throughout their education.
Contact
School of Applied Sciences
Science and Technology Center, ST256
Tel: +90 392 671 1111 Extension: 2751
School E-mail: secretary-sas@ciu.edu.tr
Director: Assoc. Prof. Dr. Müesser NAT
Director E-mail: mnat@ciu.edu.tr