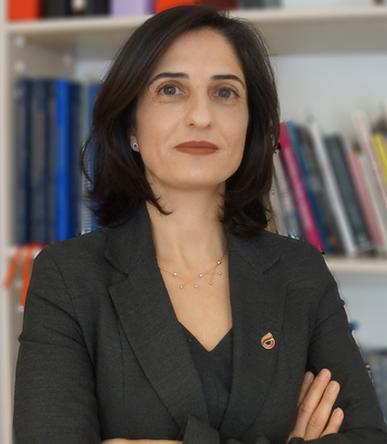 Asst. Prof. Dr. BAHAR TAŞELİ
Faculty of Communication
Telephone number +90 392 671 11 11
Extension 2318
Office No. CU123
CURRICULUM VITAE
Education
University of East London School of Social Sciences, Media and Cultural Studies (PhD, 2012)
Eastern Mediterranean University Communication Studies (Master, 2002)
Anadolu University, Turkey Faculty of Communication Sciences, Department of Cinema and Television (Undergraduate, 1996)
Publications
Papers presented in international conferences and printed as proceedings
'Turkish Cypriot Media Framing of the Establishment of the Turkish Republic of Northern Cyprus', presented at İstanbul Yeni Yüzyil University, 9-10 June 2022 - 2022
Taşeli, B. "Narratives of Turkish Migrant Women in Cyprus". Presented in Narratives of Displacement International Conference 26 October 2019 — Oxford, UK - 2019
WAR JOURNALISM IN CYPRUS: TURKISH CYPRIOT PRESS DISCOURSES DURING THE 1974 CONFLICTS presented at The Role of Communication in a Transforming World Sympsium, 15-16 March, 2017. Lefkosa, TRNC. - 2017
Taseli, B. New Perspectives in History Teaching: AHDR in Cyprus. AHDA Conference: Historical Justice and Memory: Questions of Rights and Accountability in Contemporary Society 5 - 7.12.2013, Columbia University, New York, USA. - 2013
Taseli, B. Narratives of Self and Other in the Turkish Cypriot print media. Centre for Narrative Research & NOVELLA Graduate Seminar in Narrative Research series. Institute of Education. 04.06.2013. University of London. - 2013
Taseli, B. Construction and Contestation of Turkish Cypriot Identity. 3rd Global Conference on Strangers, Aliens and Foreigners: A Diversity and Recognition Project, 27-29.09.2011, Mansfield College, Oxford, UK. - 2011
Taseli, B. The constitution and dissolution of Turkish Nationalism in Cyprus. 9th Conference on: New Directions in Humanities. 8-11.06.2011. University of Granada, Spain. - 2011
Taseli, B. Communicating with the other in Cyprus: towards an agonistic politics of peace. Nationalism and National Identities: Multidisciplinary Perspectives. 12-13.06.2007. University of Surrey, Guildford, UK. - 2007
Taseli, B. Turkish Cypriot Print Media vis-à-vis Democracy to Come. 5th Graduate Conference in Political Theory, Department of Government, University of Essex. 9-10.05.2004. Essex, UK. - 2004
Taseli, B. A Comparative Study of the Construction and Re-Construction of Turkish and Greek Cypriot Identity Process After the Opening of the Borders in Cyprus. Unstable Realities, Unstable Identities. Graduate Conference, Saint Louis University. 20.06.2003. Madrid, Spain. - 2003
Books and books chapters published internationally
Taşeli, B. 2021. [Turkish Cypriot Press During the 1974 War: Representations of Identity and Otherness ]1974 Savaşı'nda Kıbrıs Türk Basını: Kimlik ve Ötekilik Temsilleri. In Ö. Seçim, D. Çiftçi (eds) Siyasal İletişimciler Diyor Ki. (539-557). Literatürk Press. - 2021
Articles published in other peer reviewed international journals
Stubbs, J., Taseli, B., 2014. Newspapers, Nationalism and Empire: The Turkish Cypriot press in the British colonial period and its aftermath. Media History Journal. 20/3, 284-301. - 2014
Articles published in National journals
Taseli, B. Kıbrıs'ta Barış'ı Yeniden Düşünmek, (Re-thinking Peace in Cyprus) Kıbrıs Yazıları Dergisi, (Cyprus Essays Journal) Spring 2,2006. - 2006
Papers presented in National conferences and printed as proceedings
'The Relationship between the Turkish Cypriot Community and Cinema in History', presented with İpek Halim, 5. Türk Film Araştırmalarında Yeni Yönelimler Konferansı Bahçeşehir University, Istanbul, Turkey. 2003, Haziran. - 2003
Thesis Supervision
Master Thesis Supervised
PHILOMENE MUHIGWA MWINDJA (21908889) "Media and Conflict in the Democratic Republic of Congo " - 2022
GENDER STEREOTYPES IN NAMIBIAN TELEVISION COMMERCIALS, HELENA NDAHAMBELELA KATUTA - 2021
BOKO HARAM'S KIDNAP OF THE CHIBOK SCHOOL GIRLS: A GENDERED ANALYSIS OF THE DAILY PUNCH AND VANGUARD NEWSPAPERS, TINA CHELSEA EDOHEN - 2021
Idowu, Mary Alola. Gender Stereotypes in Nollywood Films. June 2019 - 2019
Dapar, Satmak Alexander. A Critical Review of the Rold of Peace Journalism in Conflict Management: Nigeria's Boko Haram and Fulani/Hersment Conflicts as Case Studies. January 2019. - 2019
Lagble, Edem Kofi. Media Bias in Ghana: Discourse Analysis of the Ghanian Times and Daily Guide Editorials. 2018. - 2018
Mugobogo, Wadzanai Belinda. Dynamics of Gender Relations and Intercultural Communication: The Experiences of Female Zimbabwean Students in North Cyprus. June 2017. - 2017
Alamu, Ibrahim Olamilekan. Media Framing and the Nigeria 2015 Presidential Election. June 2017. - 2017
Talahmeh, Maysa. The representation of the Palestinian-Israeli conflict in the Palestinian feature films. June 2017. - 2017
Awuhe, Josephine. Social Media as a Tool for Promoting Gender Equality: A Case Study of Gender Discrimination in Nigeria. January 2017. - 2017
Olowo, Cecilia. Social Media as a Communication Tool Among the Nigerian Students in North Cyprus. June 2017. - 2017
Kwame Owusu-Amoh, Stepehen. Portraits of women: A Stereotypical Depiction of Women in Ghanaian TV Commercials. 10.06.2015. - 2015
Ünver, Mustafa. Ticari Organizasyonlarda Sosyal Medya Kriz Yönetimi. 13.08.2015. - 2015
Adeniji,Oluwatomi. Social Media in Nigeria. July 2014. - 2014
Awards
Fulbright Visiting Scholar award, Columbia University, New York USA (FALL 2013)
2011 Graduate Scholar Award, Humanities Conference, , University of Granad, Spain.
2010 School of Humanities and Social Sciences, phd Hardship Funding, University of East London
2008/2009 European Union Commission Scholarships Programme
1999 (21 June-10 September) Chevening Award (short-term) Certificate in Broadcast Journalism.Thomson Foundation, University of Cardiff, Wales, UK.
Research Areas
Representation of collective identity and otherness in Turkish Cypriot media, discourse analysis of media texts, political communication, gender.
Administrative Duties
Department Chair
Curriculum Committee, Vocational School Representative (November 2016 - )
Communication Faculty ECTS Committee Representative 9.11.2017
VOCATIONAL SCHOOL/PUBLIC RELATIONS AND ADVERTISING Head of Department