About the Program
The Physical Education and Sports Teaching Program educates teachers who have pedagogical formation and can carry out Physical Education and Sports classes in schools. The program aims to educate sports trainers with the ability to contribute to cognitive, emotional and psychomotor traits by teaching various sports skills, sports branches through sports-specific teaching methods to individuals with different characteristics from any age group. Our graduates can work as instructors in various sports centers, aerobics centers and fitness centers as a physical education and sports teacher as well as in schools affiliated to the Ministry of Education. Graduates also obtain a Level 1 sports trainer certificate in a sports branch they have undertaken during the undergraduate education.
Education Opportunities
Physical Education and Sports Teaching Program graduates can register for postgraduate and doctoral programs, if they fulfill the requirements. Also, they must be successful in the KPSS examination in order to become a teacher in the public schools of Turkey. This condition is not required for teachers in private institutions. Graduates can also serve as physical education and sports teachers in pre-schools. They will have a 1st -level sports trainer license in a sports branch they have specialized in during their undergraduate education. Graduates are able to take sports trainer credits and improve their grades by benefiting from the fitness and other sports branch courses they have previously taken. Graduates who expect to be appointed as teachers can be employed in different areas of the sports sector.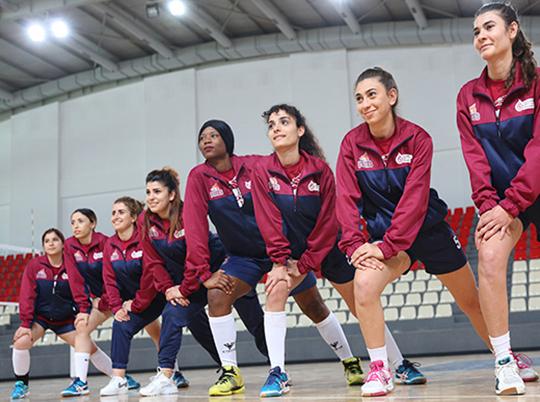 Career Areas
During their undergraduate education, students may earn a certificate if they participate in the certificate programs held for the development of the students at the School of Physical Education and Sports. Graduates can be sports managers in different sectors in the Turkish Republic of Northern Cyprus or Turkey, such as private sector institutions, hotels, motels and similar facilities, and as managers at different positions in the practices of private sports halls, organizations, and businesses. Furthermore, employment can be found in activities related to social development of health, as administrators of the relevant staff of local government offices, in the organization of sporting activities, and as a practicing professional sports manager. Graduates may also be employed as physical education and sports teachers in private institutions where disabled people are trained. BA graduates can upgrade their sports trainer credentials they receive and be exempted from certain courses.
Contact
Faculty of Education
Graduate Sciences and Education Center, GE203
Tel: +90 392 671 1111 Extension: 2701
Faculty E-mail: secretary-foe@ciu.edu.tr
Dean: Prof. Dr. Halil İbrahim YALIN
Dean E-mail: hyalin@ciu.edu.tr
Compulsory modules
First Semester
THE BASICS OF PHYSICAL EDUCATION AND SPORTS
Beden eğitimi ve sporda temel kavramlar; beden eğitimi ve sporun temel amaçları, eğitim ve öğretimde beden eğitimi ve sporun yeri, işlevi, amaçları, spor bilimlerinin tarihi, felsefesi, yayınlarını ve meslek alanlarını tanıtmak, insan ve beden eğitimi-spor arasındaki ilişkileri, fiziksel, fizyolojik ve psiko-sosyal çalışma alanlarının beden eğitimi bilimi ile ilişkileri, sporun fonksiyonları, spor psikolojisi, öğretmenlik mesleği, sporda yeni yönelimler, beden eğitiminin Dünya'da ve Türkiye'deki gelişimi ve öncü kişileri, değişik ülkelerde beden eğitimi biliminin durumu, performans ile beden eğitimi bilimi arasındaki ilişkisi, diğer bilimlerle ilişkisi, beden eğitimi ve sporda meslek alanlarının geleceği, Türk eğitim ve spor kurumları içindeki yeri ve işlevi, beden eğitimi ve spor bilimlerinde araştırma sistematiği.
HUMAN ANATOMY AND KINESIOLOGY
HUMAN ANATOMY AND KINESIOLOGY
INFORMATION TECHNOLOGIES
The aim of this course is to ensure that students are equipped with the fundamental topics of the computers and information technologies. These include; information technologies, computational thinking, problem solving concepts and approaches, algorithms and flow charts, basic concepts of hardware and software, operating system basics, current operating systems, file management, utility programs (third party software), word processing programs, calculation/table/graphic programs, presentation programs, desktop publishing, database management systems, web design, Internet usage in education, communication and collaboration technologies, safe internet usage, information ethics and copyrights, effects of computer/Internet on children / teenagers. Briefly, students who have successfully completed this course will know the basic computer terminology.
INTRODUCTION TO EDUCATION
Basic concepts related to education and training; educational purposes and functions; relation to other fields and sciences; legal, social, cultural, historical, political, economic, philosophical and psychological bases of education; methods in educational sciences; school and classroom as an educational and learning environment; current developments in teaching profession and teacher education, educational approaches and orientations in the 21st century. The structure and characteristics of the Turkish National Education System, formal and non-formal education, the role of the teacher in the education system, the characteristics of the teaching profession, the characteristics of a good teacher, practices and developments in the field of teacher education, personal and professional characteristics of a teacher, positive and negative practices in teacher training, proposals for effective education practices.
SOCIOLOGY OF EDUCATION
Basic concepts of sociology: society, social structure, social phenomenon, social issues etc .; the predecessors of sociology (Ibn-i Haldun, A.Comte, K. Marx, E. Durkheim, M. Weber et al.) and educational views; basic sociological theories (functionalism, structuralism, symbolic interactionism, conflict theory, critical theory, phenomenology and ethnomethodology); social processes (socialization, social stratification, social mobility, social change etc.) and education; social institutions (family, religion, economy, politics) and education; The development of sociology and the sociology of education in Turkey (Ziya Gokalp, Ismail Hakki Baltacıoğlu, Nurettin Artillery, Mumtaz Turhan et al); culture and education; social, cultural, moral system and school as a community, alienation and education, media and education, globalization and education, school and violence.
ENGLISH LANGUAGE-I
The course introduces students with basic speech patterns at the elementary level. Through listening students will identify different sound rhythms and practice pronounciation of letters, words and phrases. Through speaking students will identify different register and use the given language in an appropriate way. In addition students will be able to define themselves or others, answer questions in the Present Simple tense, use the prepositions of place, and talk about their daily routines. Through reading students read paragraphs and simple texts to improve their general comprehension of the passages, and answer the given comprehension questions. Through writing, students will be able to compose guided,controlled paragraphs in the Present Simple tense, and recycle the obtained new vocabulary to produce their own sentences.
ATATÜRK PRINCIPLES AND HISTORY OF TURKISH REFORMS-I
The basic concepts of the course are Ottoman state and society structure; the internal and external factors leading to the dissolution of the Ottoman State; Ottoman reform and renovation efforts; Tanzimat and Constitutional periods; Tripoli and Balkan Wars; World War I;, the Ottoman fronts in war; the Mondros Armistice; the peace treaties in the end of the war; societies established in the armistice period; Mustafa Kemal, Havza and Amasya General Memorandums; Congresses; the National Pact; the opening of the Grand National Assembly; riots; fronts and battles of the National Forces and the regular armies; foreign relations and treaties of the Grand National Assembly; the Battle of Sakarya and the Great Offensive; the Mudanya Armistice; abolition of the sultanate and the Lausanne Peace Treaty.
TURKISH LANGUAGE - I
Writing language and features; writing and punctuation; characteristics of written and oral expression; paragraph formation and paragraph types (introduction, development, conclusion paragraphs); written expression (written composition: free writing, planned writing); (writing, reading, planning), ways of developing ideas (explanation, discussion, narration, description, definition, sampling, witnessing, comparison, etc.). applications); text structure (structural features of text, introduction-development-result parts); textual features (cohesion, coherence, purposefulness, acceptability, situationality, informationalism, intertextuality); writing text (drafting, writing, editing and sharing); writing informative-descriptive text; writing narrative text; writing descriptive text; writing controversial and persuasive texts.
Second Semester
HEALTH INFORMATION AND FIRST AID
HEALTH INFORMATION AND FIRST AID
PHILOSOPHY OF EDUCATION
Educational philosophy, education philosophy, issues of philosophy, social bases of education, forms of affecting education, philosophical movements (idealism, realism, pragmatism, existentialism), educational philosophical movements (continentalism, art education movement, child movement movement, rural education, dormitory movement, work education movement). Environmental change and the necessity of relationship between human,school and life, human development and education, change and development of communication, communication network between people, cybernetic education, education and learning in information society (what is information, what is information society, what are the ways of processing information? Who is called qualified person in society?), internet supported education. Credits: (2, 0,0)2 Prerequisites: ECTS credits: Abbreviated Title: Philosophy Educ. Category: Core Course Teaching Language: Turkish
EDUCATIONAL PSYCHOLOGY
The students of this course will be able to explain basic concepts and theories of development and learning; with these concepts and theories they will be able to analyze development and learning issues in daily life processes. The students will learn the relationship between Education-Psychology, the definition and functions of educational psychology, the basic concepts related to learning and development, development characteristics (physical, cognitive, affective, social and moral development), the factors that influence learning, learning theories, the reflection of learning theories on the teaching processes, effective learning, the factors that affect learning (motivation, individual factors, group dynamics and the influence of these factors on the learning processes in classroom). At the end of this course the teacher candidates will be able to show behavior and attitude according to developmental characteristics of students. They will have the ability to choose and apply learning theories. They will also contribute to the development of students as a whole. Credits: (3, 0,0)3 Prerequisites: ECTS credits: Abbreviated Title: Psychology Educ. Category: Core Course Teaching Language: Turkish
ENGLISH LANGUAGE-II
INGL152 is the continuation of INGL151. The course integrates the four main skills at a higher elementary level for students. Through recessive skills, which are listening and reading, students identify different sound rhythms and practice the pronunciation of letters, words and phrases. Also, by reading higher level paragraphs and texts, students infer the meaning of new words by using their existing vocabulary. Through productive skills, which are speaking and writing, students identify different register and use the given language in an appropriate way. Furthermore, students use the Present Continuous and Past Simple tenses to participate in basic dialogues and daily exchanges, and express themselves effectively. Also, through writing, students produce their own sentences by recycling the obtained new vocabulary in guided, controlled paragraphs they compose.
ATATÜRK PRINCIPLES AND HISTORY OF TURKISH REFORMS-II
The course content is as follows: Ankara's proclamation as the capital; proclamation of the republic; the removal of the caliphate; the 1924 Constitutional Law; the establishment of the People's Party; the Progressive Republican Party; the Sheikh Said Rebellion; the Izmir conspiracy; the Free Party; secularization and modernization in law; nationalization of culture and education; the law of unification of education; alphabet revolution; Turkish Language Association; Turkish History Association; reform in the university; socioeconomic developments; Ataturk's national heritage: 6 principles consisting of nationalism, secularism, republicanism, populism, statism and revolutionism; foreign relations and policy in Atatürk period, Montreaux Straits Convention, Balkan Pact and Sadabad Pact, participation of Hatay in Turkey, İnönü era and World War II, Village Institutes, multi-party transition after world war.
TURKISH LANGUAGE-II
Characteristics of academic language and writing; using definitions, concepts and terms in academic writings; objective and subjective expression; the structure and types of academic texts (articles, reports and scientific abstracts etc); claiming, writing propositions (verifying an idea, defending or opposing); the formal characteristics of scientific reports and articles; the steps of writing reports; explanation, discussion, establishing relations between texts, showing references (citation and footnotes, bibliography); writing headings, summarizing, writing keywords; ethical principles to be observed in scientific writings; academic text writing applications. In addition to these, they will find the ability to develop paragraph writing skills such as summarizing, drafting a text, and expressing a thought with other words. Spelling and punctuation marks and the use of non-alphabetical symbols are also included in the course.
Third Semester
BEDEN EĞİTİMİ - SPOR ÖĞRETME VE ÖĞRETİM YAKLAŞIMLARI
BEDEN EĞİTİMİ - SPOR ÖĞRETME VE ÖĞRETİM YAKLAŞIMLARI
TEACHING TECHNOLOGIES
Relationship between education and technology; Basic concepts; What is Instructional Design Theory and How is it Changing? ; historical development of instructional technology; development policies of the 1980's and instructional technology in Turkey, applications and projects; technology and new literacy concepts; 21st century student characteristics; basic concepts of information and communication technologies; developments in information and communication technologies; Fundamentals of Human Performance Technologies; Instructional Design and Models; current information and communication technologies used in teaching environments; the media and tools used in the educational process; Integration of Instructional Technologies into Learning Environments; future information and communication technologies and their connection with learning / teaching. Technology Integration in Schools, Technology Leadership and Technology Planning; Online Learning Environments; Computer Games and Learning.
PRINCIPLES AND METHODS OF TEACHING
Basic concepts related to principles and methods of teaching; teaching-learning principles, models, strategies, methods and techniques; setting goals and objectives in teaching (cognitive, affective and psychomotor goals), selecting and organizing content in teaching and learning; teaching materials; planning teaching and instructional plans; theories and approaches related to teaching (such as teaching through presentation, learning through discovery, research through inquiry learning, programmed instruction, project based learning, cooperative learning, constructivism), teaching in effective schools, success in learning and teaching; evaluation of classroom learning; teachers' duties and responsibilities in increasing the quality of instructional services, teacher competencies, students' abilities to apply basic cognitive concepts to teaching plans, physical characteristics of teaching environment.
COMMUNITY SERVICE PRACTICES
Community, collective service practices and social responsibility concepts; social responsibility projects in terms of social and cultural values; identifying current social problems; preparing projects for the solution of determined social problems (fund raising, advertising, social campaigns, group activities for instutitions); voluntarily participating in individual and group social responsibility projects (schools, hospitals, municipatilites, associations, organisations and etc); participating in social responsibility projects in various institutions and organizations; participating in scientific events such as panels, conferences, congresses, symposiums as spectators, speakers or regulators; assessing the results of social responsibility projects.
Fourth Semester
BEDEN EĞİTİMİ VE SPOR ÖĞRETİM PROGRAMLARI
RHYTHM EDUCATION AND DANCE
RHYTHM EDUCATION AND DANCE
HISTORY OF TURKISH EDUCATION
The students of this course will be able to understand the general features of Turkish Education in the previous period from Islam. In this context, it will learn how education in the Turkish society was carried out before Islam, what innovations Islam brought to the field of education, and how transformed with Muslim's Turks. Will be able to explain the development of Turkish Education in the Ottoman period in relation to the renewal movements, will review reforms in the field of education during the Republican period according to school levels and teacher training policies, will be able to recognize the Turkish educational thinkers in relation to the periods they lived and explain the contributions of these thinkers to Turkish Education. Students will also learn about the education system from the earliest periods of the Turkish History until the present day and will question our education system by seeing the successful and unsuccessful aspects of the educational policies applied in different periods.
RESEARCH METHODS IN EDUCATION
Basic concepts and principles of research methods; research process (to identify the problem, to identify the problem and sample, to collect and analyze data, to interpret the results); general characteristics of data collection tools; analysis and evaluation of data; access to articles, dissertations and databases; research models and types; basic paradigms in scientific research; quantitative and qualitative research designs, sampling in qualitative research, data collection, analysis of data; validity and safety in qualitative research; monitoring, evaluating and presenting articles or theses; preparing a research report in accordance with research principles and ethics;action research in education, narrative research, reporting (editing of a scientific writing, parts of a scientific writing, general writing rules, tables, figures, appendices, transcriptions, references, abbreviations).
Fifth Semester
BEDEN EĞİTİMİ VE SPOR ÖĞRETİMİ
BEDEN EĞİTİMİ VE SPOR ÖĞRETİMİ
CLASSROOM MANAGEMENT
The students of this course will get knowledge about basic concepts and approaches in classroom management, preparation for the new academic year, basics of classroom managment, the factors that influence classroom management and student behaviour, communication and interaction in classroom, creating a good classroom climate, classroom as a social system, classroom management models, physical layout of the classroom, Undesirable behaviors and coping strategies, development and implementation process of classroom rules, time management in classroom, management of the learning and teaching processes, dealing with problematic students in classroom, teachers as leaders, school-environment and teacher-parent interaction, problems related to counseling services, management of multi-cultural classrooms, management of classrooms with disabled students, effective use of educational technologies.
MORALITY AND ETHICS IN EDUCATION
Basic concepts and theories about morality and ethics; ethical principles, ethical rules, business and professional morality / ethics; social, cultural, moral, ethical aspects of teaching profession; the right to education and learning, ethical principles in the process of education, training, learning and evaluation; ethical principles in relation to education stakeholders (employers / managers, colleagues, parents, professional associations and the society), moral/ ethical responsibilities of education / school administrators, parents and students; unethical behavior in business and professional life; public administration, ethics and regulations regarding teacher training in Turkey; unethical behaviors in school and education, ethical dilemmas, problems and solutions; moral /ethical education and ethics in the school; school director and teacher as a moral / ethical leader.
Sixth Semester
MEASUREMENT AND EVALUATION IN EDUCATION
Place and importance of measurement and evaluation in education; basic concepts of measurement and evaluation; psychometric (validity, reliability, usability) properties of measurement tools; development and implementation of success tests; interpretation of test results and giving feedback; analysis of test and item scores, The features of the result-oriented and process-oriented measurement tools used in education, measurement tools based on traditional approaches (multiple choice tests, written exams, short answer exams, true-false type tests, paired tests, oral examinations), various tools for evaluating students (observation, interview, performance evaluation, student portfolio, project and performance assignments, peer evaluation, self-assessment, attitude scales), testing cognitive, affective and psycho-motor behaviors.
TURKISH EDUCATION SYSTEMS AND SCHOOL MANAGEMENT
The aim of this course is to teach students the history and structure of the Turkish education system, the problems of the system (Centralized structure), administrative processes (motivation, decisionmaking, communication, change, problem solving, leadership), theories of administration, staff and student services in a school, various approaches of educational administration, and control mechanism in Turkish educational system. As part of this course students will be able to recognize the importance of parent-school, society-school communication and family involvement methods and activities. In this couse students are expected to learn the above mentioned topics and practice through school observations and case studies. Credits: (2, 0,0)2 Prerequisites: ECTS credits: Abbreviated Title: T.E. Systems and S. management Category: Area Core Course Teaching Language: Turkish
Seventh Semester
SPECIAL EDUCATION AND INCLUSION
Basic concepts about special education; principles and historical development of special education; legal arrangements for special education; diagnosis and evaluation in special education; individualization of teaching; inclusive and support special education services; participation of family in education and co-operation with families, characteristics of different inabilities and groups of talents; training programs and teaching strategies for different groups; effective strategies in classroom management and behavioral management, historical approach to disability (in Turkey and the world), education of the individuals with mental disabilities, hearing impairment, visual impairment, physical disability, language and communication impairment, learning difficulty, attention deficit, hyperactivity impairment, autistic and gifted children, the educational issues that the families and the staff should pay attention to.
Eighth Semester
ÖĞRETMENLİK UYGULAMASI-II
ÖĞRETMENLİK UYGULAMASI-II
BEDEN EĞİTİMİ VE SPORDA ORGANİZASYON VE YÖNETİM
BEDEN EĞİTİMİ VE SPORDA ORGANİZASYON VE YÖNETİM
SAĞLIKLI YAŞAM VE EGZERSİZ PROGRAMLAMA
SAĞLIKLI YAŞAM VE EGZERSİZ PROGRAMLAMA
UYARLANMIŞ BEDEN EĞİTİMİ VE SPOR
UYARLANMIŞ BEDEN EĞİTİMİ VE SPOR
GUIDANCE IN SCHOOLS
Basic concepts and principles of guidance and pschological counseling, history, field and branches of guidance and pschological counseling; research and evaluation methods used, psychological counseling process, psychological counseling theories, school counseling models (traditional and developmental), school counseling approaches (crisis-oriented, remedial- preventive and developmental), the traditional school counseling model aims, principles, traditional the role and functions of the school psychological counselor, the purpose of the developmental school counseling model,principles and program (Comprehensive Developmental Guidance Program), basic services / interventions and the roles and functions of the developmental school counselor; The aim of the developmental and preventive approach in guidance and pschological counseling principles, the importance of life skills education in developmental approach, positive youth development approaches and prevention levels in the preventive approach (basic, second and third level).
Optional modules
TR Applicants
TR Students who are successful in the exams conducted by the Higher Education Council Student Selection and Placement Center (ÖSYM) and are entitled to enroll in our university in line with their preferences can complete the registration process with the necessary documents for registration from our Registration and Liaison Offices throughout Turkey or from the Marketing Directorate on campus.
Click for detailed admission requirements information.
TRNC Applicants
TRNC citizens and TR citizen candidate students who have completed their entire high school education in TRNC. They are placed in undergraduate programs in line with their success in the CIU Student Placement and Scholarship Ranking Exam and the programs they prefer.
Students who are successful in the exam can register from the TRNC Marketing Office.
Tuition Fees are determined at the beginning of each academic year. Candidate students who are entitled to enroll in CIU can learn their fees in line with the Tuition Fee Calculation system.