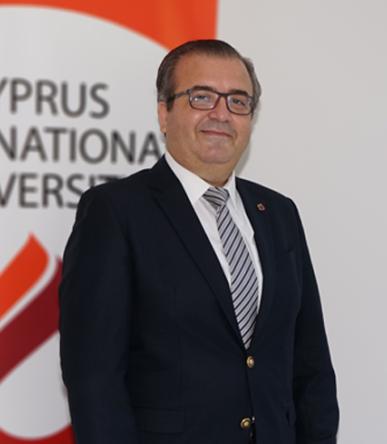 Asst. Prof. Dr. AHMET SAMİ BOŞNAK
Faculty of Pharmacy
Telephone number +90 392 671 11 11
Extension 2669
Office No. ST245
CURRICULUM VITAE
Education
Anadolu University Media and Communications (Undergraduate, 2021)
Near East University Clinical Pharmacy Dep. (PhD, 2018)
Gaziantep University Faculty of Medicine / Molecular Genetics Dep. (Master, 2004)
Gazi University Faculty of Pharmacy (Undergraduate, 1998)
Publications
Articles published in peer reviewed international journals (SCI,SSCI,Arts and Humanities)
Assessment of pharmacy students' knowledge about breast cancer and colon cancer in Northern Cyprus universities - 2023
Knowledge, Attitude, and Practices Regarding Proton Pump Inhibitors among Community Pharmacists and Pharmacy Students - 2023
Perceived Satisfaction and Outcomes from Drug Information Center Services Provided with a Telehealth Approach - 2022
Investigation of Anxiety among Pharmacy Students during the COVID-19 Pandemic in Northern Cyprus - 2022
The role of the pharmacist in improving medication beliefs and adherence in cancer patients - 2019
Assessing Chemotherapy Toxicity and Implementing a Digital Reporting System for Clinical Pharmacy Services: A Single-Centre Experience - 2019
The role of the pharmacist in the multidisciplinary approach to the prevention and resolution of drug-related problems in cancer chemotherapy - 2018
Articles published in other peer reviewed international journals
Impact Assessment on Maintenance of Essential Reproductive, Maternal, Newborn, Child, Adolescent Health and Nutrition Services in the Context of COVID-19: Insight from North-Central Nigeria - 2022
The effect of COVID-19 on oncology pharmacy services: Results of a 3 month long weekly global survey - 2021
The future of oncology pharmacy: European Conference of Oncology Pharmacy 2018 - 2019
Books and books chapters published internationally
QUAPOS Quality Standart for the Oncology Pharmacy Service, European Society of Oncology Pharmacy Press, 6th Edition, Turkish Translation. - 2019
Books and books chapters published nationally
Printed Book, Handbook of Oncology Pharmacists 2018, Ahmet Sami Bosnak, Turkish Oncology Pharmacists Association, Istanbul Print, 140p, 2018. ISBN: 978-60566345-3-6. - 2018
Printed Book, Handbook of Oncology Pharmacist, 2016, Ahmet Sami Bosnak, Turkish Oncology Pharmacists Association, Istanbul Print, 120p, 2016. ISBN: 978-605-66345-1-2. - 2016
Printed Book, 10 Steps of Clinical Oncology Pharmacy, Ahmet Sami Bosnak, Eda Gedikoğlu, Turkish Oncology Pharmacists Association, Istanbul Print, 160p, 2016. ISBN: 978-605-66345-2-9. - 2016
Thesis Supervision
Doctorate Thesis Supervised
The Effect of CDP-Choline and Choline on HTVL-1 Related Diseases (Shideh Roshani) - 2023
Evaluation of the Rational Drug Use of Patients with Chronic Diseases Receiving Service from Community Pharmacies (Ali Hoca, MPharm) - 2022
Evaluation of Safety and Efficacy of Post Operative Acute Pain Management with Non Steroidal Anti Inflammatory Drugs in a State Hospital (Mehmet Gökel, MPharm) - 2022
Assessing the Effect of Tele-Health Application in Drug Information Center: Evidence From a Single Center Experience (Gloria Nnadwa Alhassan, 2020) - 2020
Projects
Evaluation Sports Supplements & Medication Use Among University Professional Team Members in North Cyprus
Evaluation of the Safety and Efficacy of Post-Operative Acute Pain Management with Non-Steroidal Anti-Inflammatory Drugs (NSAID) in a State Hospital
Assessment of Faculty of Pharmacy Students Anxiety Status During Covid-19 Pandemic Period in Northern Cyprus
Awards
Gazi University, "Alumni Who Makes a Difference", 2019, for his outstanding work in Oncology and Nutrition Support Pharmacy.
Turkish Pharmacists Association (TEB) Academy, Special Jury Prize, 2010, within the scope of Science, Service and Encouragement Awards, for "Promising Qualified Scientific Studies" in Oncology.
Gaziantep University Rectorate "Personnel of the Year Award", 2010, for the Software Developed for the Regulation of the Hospital Pharmacy Purchasing Process "PharmaBalance" and the Briefing on behalf of the University in the Turkish Grand National Assembly.
Research Areas
Clinical Pharmacy
Oncology Pharmacy
Nutrition Support Pharmacy
Pharmacotherapy
Pharmacology
Administrative Duties
CIU Alumni & Career Center Manager
European Society of Oncology Pharmacy, V.President
CIU Board of Trustees Coordinator
European Journal of Oncology Pharmacy Editorial Board Member (SCIEx)
Journal of Cancer Science Research Editorial Board Member
CIU Drug Information Center Manager
Work and Skill Development Project Coordinator
Faculty of Pharmacy Vice Dean
Turkish Oncology Pharmacists Association President